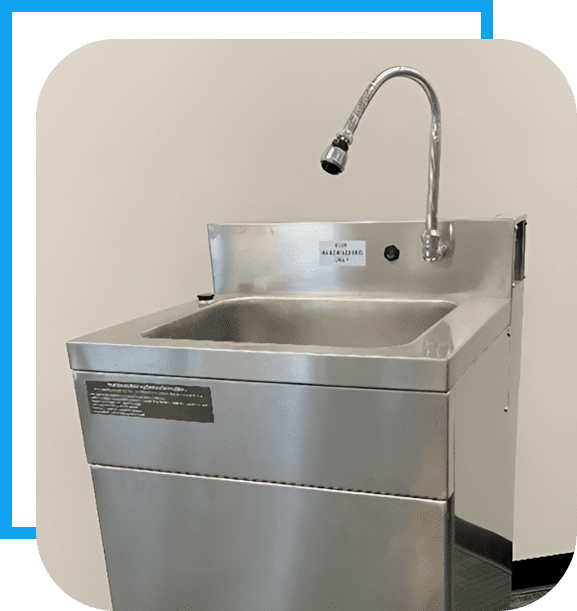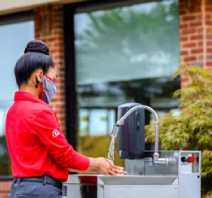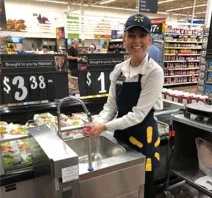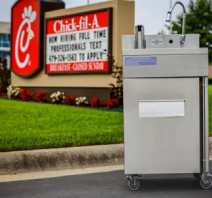 Commercial Stainless-Steel Handwashing Station
HYBRID™ Commercial Stainless-Steel Freestanding Handwashing Station
Hybrid Model 684 - 24 Characteristics:
Full unit made in stainless steel in compliance with applicable "CSA-UL-NSF" standard.
All electrical and fluid controls are contained in a removable stainless-steel box secure at the sink bowl side. The faucet, switches, pump, and battery are in the box. The originally installed box is interchangeable with others, new or repaired. No tools are needed, and there is no need to move from the position of the entire handwashing station.
The stainless-steel cabinet dimensions of 22" x 22" x 40" H have a sink bowl dimension of 16" x 14" x 7" on top next to the removable box control. The cabinet base has water-holding containers. A door with a self-lock is provided. The removal of the control box requires access through the cabinet door.
Unit Mobility is on 4 casters, long life, shock resistant for rough service conditions. 2 casters are rigid and 2 swivels with lock.
2 polypropylene containers FDA approved are of 5-gallon capacity for Fresh Water and 6 gallons for Gray Water.
Power: Standard 110 Volt 60 Hz/24V for continuous operation.
Li-ion battery 24 V – Volt DC". High-performance energy – self-charging.
CSA/UL Automatic shut-off protector on 8.2 ft durable power cord.